ADVERTISEMENT
With web analytics and tracking tools, you can keep an eye on how and where people interact with your website. Integrating your customer relationship management (CRM) software with web analytics and tracking tools gives you a more comprehensive view of user and customer behavior. 
Keep reading to learn more about the perks and benefits of integrating a CRM with web analytics and tracking tools.
If you're still looking for the right CRM for your business, look no further—Nutshell is an all-in-one CRM that offers dozens of integrations with sales and marketing tools. Start working with Nutshell today by starting a free 14-day trial, or contact us today to learn more.
Tracking website visitor behavior
One of the key benefits of connecting your CRM to web analytics tools is the ability to track and monitor website visitor behavior through key metrics. Metrics associated with web visitor behavior include things like website traffic, conversion rate, and bounce rate.
By tracking visitor behavior metrics like the ones listed above, your business can gain a better understanding of how users interact with your website, and you can identify areas of your site that need improvement or should be further optimized. 
How to integrate your CRM with web analytics to track website visitor behavior
The best CRMs come stacked with software integration opportunities so you can continue to expand your business and its success with web analytics and tracking tools. That's why Nutshell is proud to offer dozens of software integrations so you can track your web analytics with ease.
We also offer Nutshell Analytics, our own web analytics tool. With Nutshell Analytics, you'll get data about leads' activity, such as what sources they come from and what pages they view on your website, right in your CRM.
The integrations we offer include:
Our team knows how important it is to have a well-equipped marketing toolbox at your disposal. That's why we aim to make web analytics integrations with your Nutshell CRM as easy as possible. You won't need an IT department—we'll give you all the steps you need to easily connect your web analytics tools with your CRM.
Analyzing website data
As you track your web visitor data, you can also use your CRM and analytics tools to further analyze the information and make data-backed marketing and sales decisions. By connecting your CRM to web analytics tools, you can gain insights into customer demographics, purchase history, and other behaviors.
With the insight you pull from your web data analysis, you can better segment your audience and create more targeted marketing campaigns that directly appeal to those different customer segments.
How to analyze website data with a CRM
Analyzing website visitor behavior with your CRM is all about knowing how to interpret different website visitor metrics and what they mean for your marketing efforts. When looking at your web data, keep this brief rundown on key user behavior metrics and what they mean in mind.
Website traffic
Analyzing website traffic helps businesses better understand what content their audience engages with and how they move about their site. Website traffic allows companies to identify the most popular content types among their audience, making it easier to plan and create even more engaging content that attracts users.
ADVERTISEMENT
With Nutshell Analytics, you can track website traffic data, including where your visitors are coming from and the pages they visit. What's more, Nutshell takes that valuable information and connects it with your leads to flesh out your customer and lead profiles.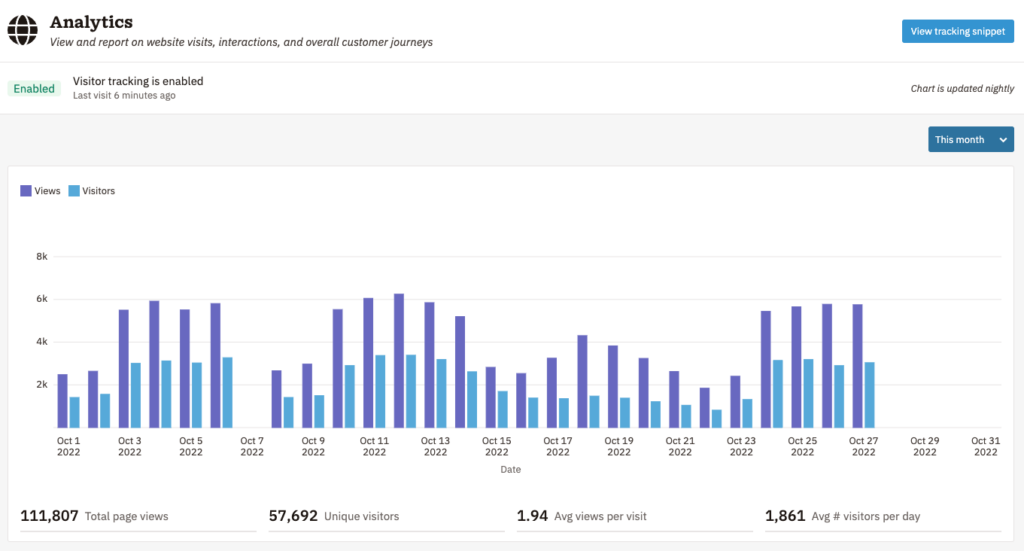 Traffic source
How are users finding their way to your website? Understanding where your website traffic is coming from is key to knowing what non-site channels to optimize for increased traffic and what channels to improve. Traffic sources can help you learn more about your audience so you can better target your campaigns.
With Nutshell's lead attribution features, you can easily see where your best leads are coming from right in your CRM and analyze your lead sources with easy-to-understand reports.
Conversion rate
Every page on your site aims to get users to take a specific action. Whether it's to keep reading more of your content or fill out a form, you want to convert users into viable leads and customers.
Conversion rates tell you the percentage of users who visit your site and complete a desired action. When you analyze your conversion rates, you can identify specific calls to action (CTAs) on your site that are performing well and optimize ones that aren't.
Creating targeted marketing campaigns
By using customer data collected in your CRM system, you can create targeted and segmented marketing campaigns based on demographics, purchase history, and other customer behavior. Creating targeted marketing campaigns is especially helpful in attracting and retaining customers because these campaigns directly appeal to audiences.
Relevant marketing messaging stands out to audiences because it's as if your company is directly speaking to them. As a result, your business can enjoy better conversion and engagement rates and even increase your overall return on investment (ROI).
Start analyzing your web data with Nutshell
In addition to built-in features like Nutshell Analytics, Nutshell offers dozens of integrations with major sales and marketing platforms to help you step up your website analytics efforts. Begin understanding your audience in a whole new light by partnering with Nutshell today.
Learn more about how Nutshell can help you grow your business by contacting us online or starting a 14-day free trial!
BACK TO TOP
ADVERTISEMENT