ADVERTISEMENT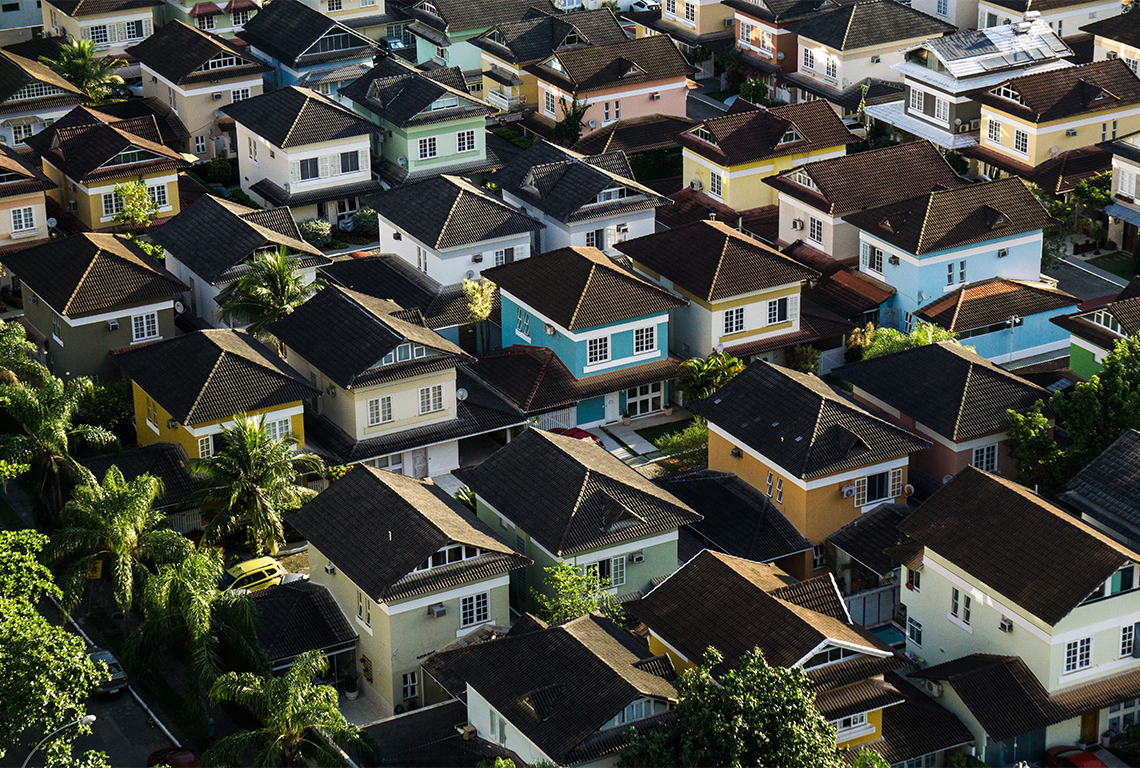 Real estate success hinges on relationships.
Whether you're an agent or broker working in residential, commercial, or industrial property real estate, you need to stay on top of your client's needs, respond quickly, and anticipate trends.
That's a lot to take on. To succeed, you need the tools to help you increase efficiency and stay on top of your leads so you can close more deals. One of your best options for managing your client relationships is customer relationship management software, called a CRM.
CRMs specialize in shaping the customer experience, not just organizing client contact details and property specs. A CRM helps you manage your real estate sales pipeline at every step, from capturing leads to earning referrals and repeat customers. Most importantly, a CRM helps you send the right message to the right customer at the right time.
In a playing field like today's real estate market, you can't afford to be a day late or a dollar short. A full-featured CRM for real estate is essential. Here's a look at how you can use your CRM to meet your business goals.‍
Related: What are some best practices for using Nutshell for real estate?
What is CRM in real estate?
Broadly, CRM in real estate is the process of managing your relationships with clients so you can keep deals from slipping through the cracks. When referencing the software, a CRM in a real estate context is a software tool real estate agents can use to keep track of potential sales and their communications with clients so they can streamline their sales workflow.
The key benefits of CRM in real estate
Using a CRM can supercharge your real estate business by helping you manage your client relationships and sales processes and stay organized. Here are some of the most significant benefits of using a CRM in real estate:
1. Enhanced communication and collaboration within the team
For your team, no two days look alike. One day may be spent checking on active listings and updating your marketing channels, while another is packed full of open houses and closings. Real estate agents are constantly juggling different tasks and need tools that can keep up.
A CRM makes communication with your entire team easier and streamlines aspects of your everyday. Agents can easily track emails regarding leads so everyone stays on the same page. Your CRM may even let you comment on activities your colleagues complete and tag them to ask questions or show appreciation.
With all the things your team has to accomplish to be successful, having a clear view of everything going on in your business is a game changer.
2. Efficient lead generation and contact management
A significant advantage of using a CRM in real estate is that you can generate and organize leads more effectively. Using a CRM with email marketing capabilities lets you easily scale up your personal outreach to catch your prospects' attention and get more leads.
A CRM also relieves the pressure to remember all your lead nurturing goals and tasks for the day. By creating custom activity types and setting reminders for yourself, you can stay far more organized than if you were writing sticky notes or saving information on your phone.
3. Improved sales forecasting, reporting, and performance tracking
When it comes to staying on top of the housing market, your team will perform better if they use data instead of going with their gut. With reporting and performance tracking, you can track what's working and forecast future sales.
4. Personalized customer engagement for higher satisfaction and retention
Relationship management is critical for success as a real estate agent. You want to follow up with potential clients at the right time and in the right way, but keeping track of those interactions can be challenging. And the last thing you want is to lose a sale to a competitor because you forgot to make a follow-up call in time.
Your CRM helps you remember important details about your clients so you can make them feel important. Never forgetting a client's birthday or must-haves can increase their satisfaction and help you close more deals. Create profiles for new buyers and sellers and keep track of their personal information to make customer interactions more individualized.
How to use a CRM to expand your real estate business
The benefits of CRM in real estate are compelling. But how do you get the most from your CRM to really grow your business? Read on to learn how.
1. Expand and train your staff in your CRM
In response to lower rates and more buyers, it's often advantageous to add mortgage brokers to your in-house teams, which helps you close deals faster and ensure the best rates. Make sure your entire staff, both veterans and newbies, are on board with your CRM. Provide ample training and always leave lots of leeway for questions, retraining, and professional development.
2. Share client information with your team
Keep your client feeling like she's a priority by making sure every team member is up-to-date on her details. Keep her most recent information at their fingertips, whether in the field or at the office. CRMs make it easy to keep information accurate and accessible on both desktop and mobile devices. Easily access her call record, her preferred method of communication, her concerns, and where she falls in the sales pipeline.
DOWNLOAD
16 sales process templates for B2B pipelines
Whether you're building your first sales process or overhauling an existing one, these Nutshell-approved templates will give you a great head-start.
3. Integrate your current systems
Save valuable time throughout the day by integrating your CRM with many of the apps you're already using. At a minimum, make sure you're integrating contacts, calendar events, and email communication by connecting your CRM to Google Apps or Outlook.
You can also easily integrate targeted marketing campaign apps like MailChimp or Hubspot and communication apps like RingCentral, Kixie, and Zendesk. (Check out more of Nutshell's third-party integrations here.)
‍Related: Nutshell Maps: A better way to find your customers
4. Sell smart
Close more deals faster when your entire staff keeps up with the latest trends for each market demographic. Use your CRM's analysis of reporting and performance tracking, in addition to sales forecast reports, to find out what works and what doesn't.
5. Close deals on a high note
There's a long-term payoff for happy clients. According to the 2022 National Association of Realtors (NAR) Profile of Home Buyers and Sellers report, 38% of home buyers used an agent that a family member or friend referred to them. By nurturing your buyers over time, you can turn your clients into advocates that generate valuable referrals.
Don't think you have the time? Explore your CRM's task automation options, such as scheduled prompts, to find more time to connect with clients. CRM's 360-degree customer view makes it easier to gauge a client's readiness along the sales pipeline. You'll know when and how to engage, with less risk of hassling clients who aren't ready.
6. Reach your target
The average first-time home buyer is now 36 years old. These buyers are young, technically savvy, and looking for wise investments. Gen Y's not your niche? The advice still stands: Earn loyal customers and referrals by joining their online haunts.
Focus online marketing campaigns on sites already garnering your target market's attention: Gen Ys are avid users of real estate apps like Zillow and Trulia. Find out where your target market hangs out and use those online influencers to deliver your message. Integrate your CRM with social media sites like Twitter to access social profiles and meaningfully engage customers.
Feed the need for self-service, especially present in Gen Y buyers: Optimize your website for the user experience with multiple avenues for direct contact (email, phone, text, chat). Send information directly to your CRM about who's visiting your website.
Make the most of location-based customer communication by tapping into beacon technology: Ping clients with relevant facts and information while on site.
How to find the ideal CRM for your real estate business
Picking a CRM for your real estate business can seem overwhelming. Fortunately, choosing the best CRM for real estate agents is as simple as comparing CRM features with your business needs. Consider these criteria when selecting the best CRM platform:
Think about your specific needs: The most important consideration when choosing a CRM is whether it meets your needs. To improve your customer data organization, you need a CRM that helps with contact management. If you want to improve your marketing, look for a CRM with email marketing.
Decide whether you need an industry-specific CRM: There are CRMs made specifically for real estate and more general software. Often, general software that offers customization will provide all the functions your business needs, but compare options to see what will work for you.
Look into automation options: Automating tasks like email marketing and the steps of your sales process can help your team save valuable hours each week. Look for a CRM that lets you automate more of your work so you can spend time on what matters most.
Consider available integrations: You'll want a CRM that integrates with the tools you already use to keep all your information in one place. Compare a CRM's native integrations with the tools you need. And if a promising CRM doesn't have a specific integration you're looking for, reach out—they may be able to create one for you!
The top 10 CRMs for real estate
CRM options for real estate agents abound. As you choose the tools and technology you need to help your business grow, you need to know about real estate CRM pros and cons to decide which is best.
ADVERTISEMENT
Here's a brief overview of top CRM options and their functionality:
1. Nutshell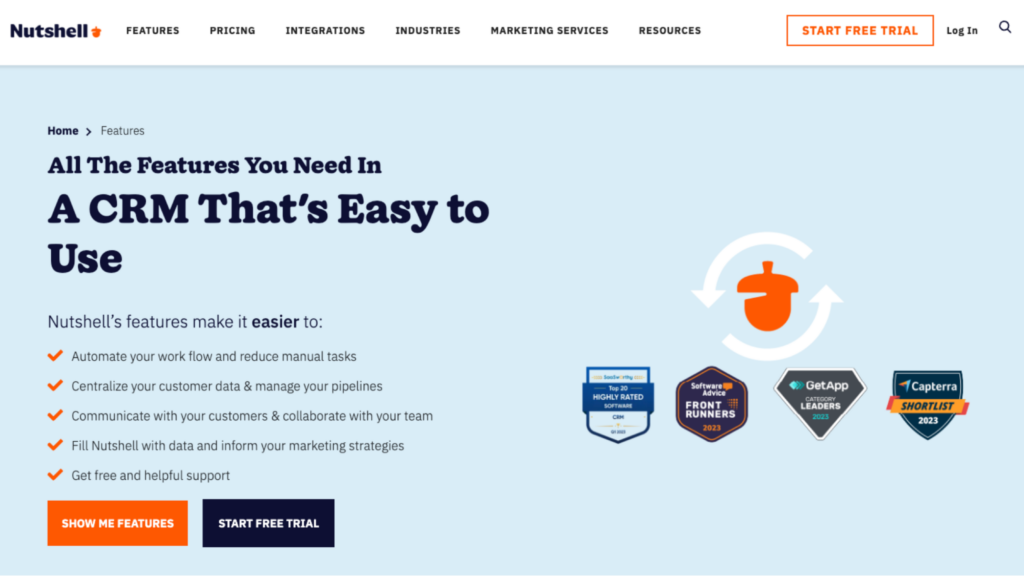 If you're looking for the best real estate CRM for a single agent or an entire team, consider Nutshell. Nutshell is an all-in-one CRM and email marketing platform offering a range of powerful features for helping companies close more deals.
Nutshell lets you create custom activity types like attending a showing, appraising a property, and following up with a client, so you never let an opportunity slip through the cracks. With the option to create multiple pipelines with a Nutshell Pro account, real estate agents can also track buyers and sellers through separate pipelines.
All of these features and more—like click-to-call recording and web form collection—make it easy for real estate brokers and agents to nurture leads into clients, keep track of client data and communication, and automate the sales and marketing processes to get more done.
2. Wise Agent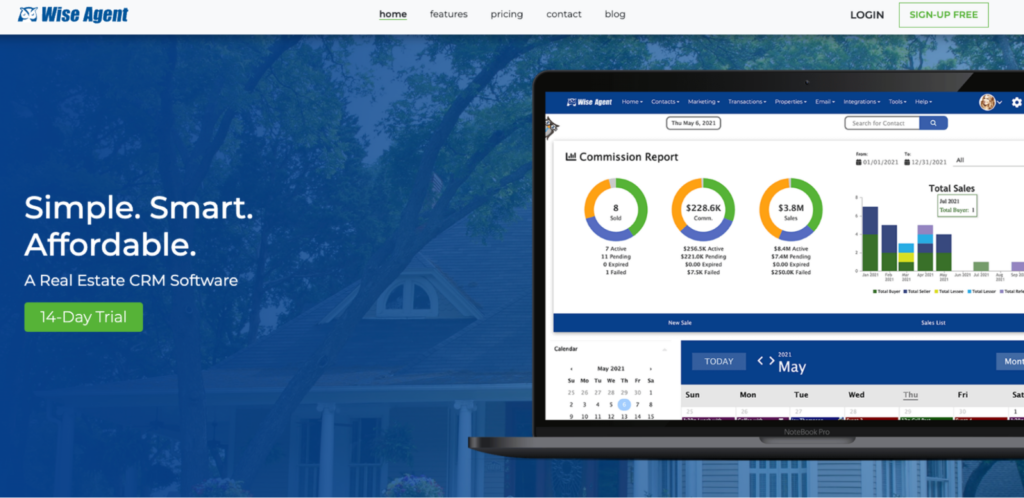 Wise Agent is a purpose-built real estate CRM with features like commission tracker, transaction and contact management, and marketing automation tools. With 24/7/365 customer support, users can also be sure to have questions answered even during off hours.
3. Realvolve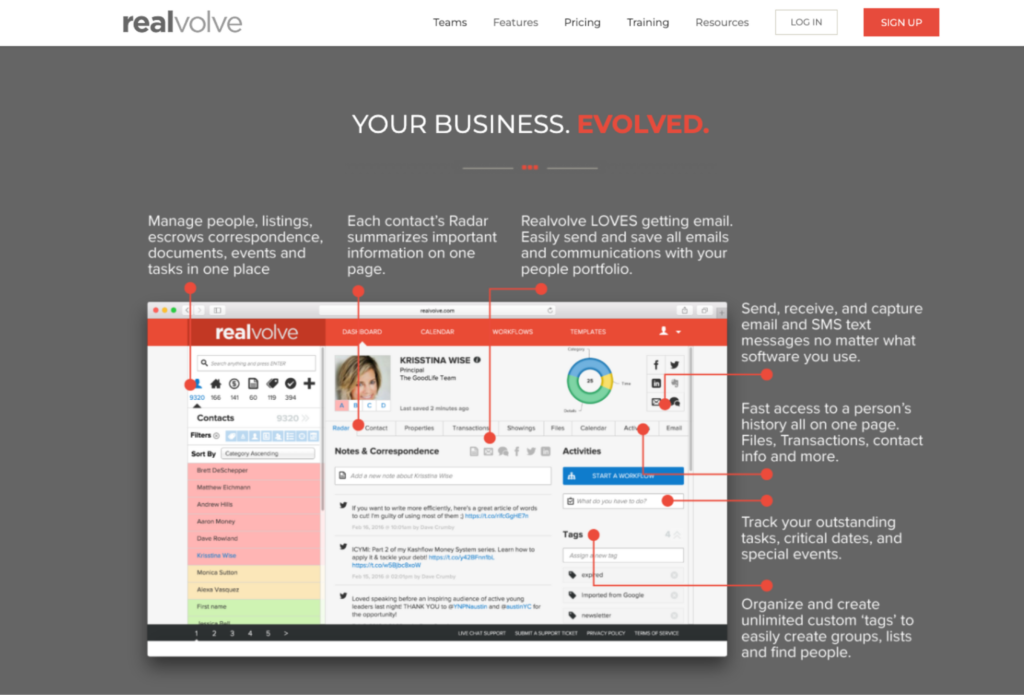 Realvolve offers features for organizing contact data, managing tasks, and messaging through email and SMS texting. Users can also customize their workflows to stay organized throughout the workday. Realvolve is a good option for individual agents who want to use templates for customizing their processes.
4. LionDesk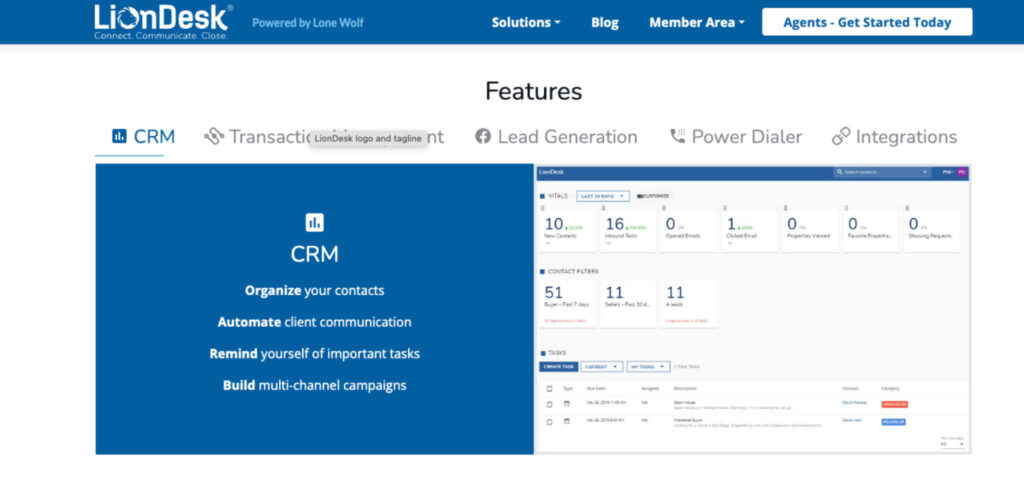 LionDesk lets users stay on top of activities and tasks with reminders and notifications. One of LionDesk's best features is its ability to run text and email drip campaigns. Click-to-call, marketing and text automation, and reporting and analytics round out the features of this real estate CRM.
5. Propertybase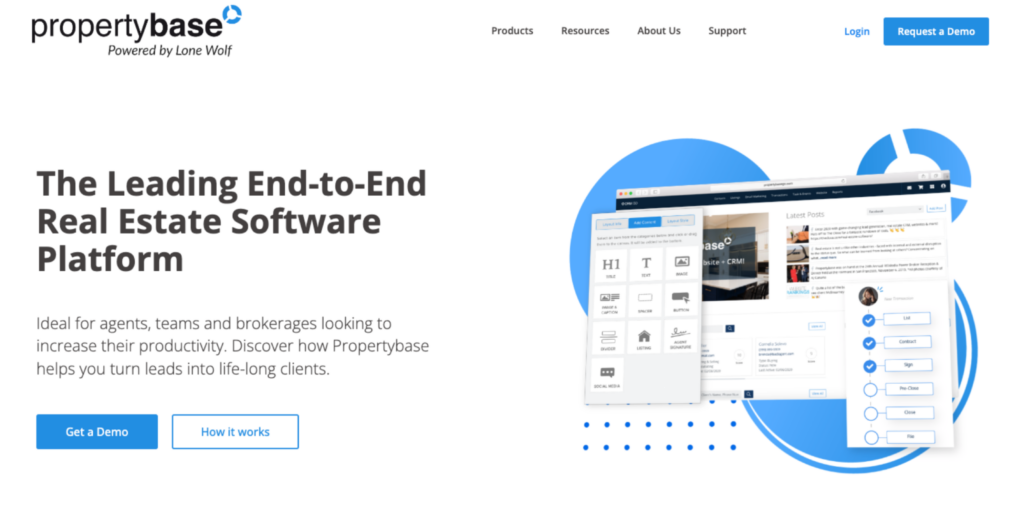 Built to manage a larger brokerage, Propertybase has quite the lineup of reporting capabilities, automation tools, and workflow management features. Users can easily manage their listings, segment customer lists for marketing campaigns, and generate print materials. However, customization is limited.
6. Follow Up Boss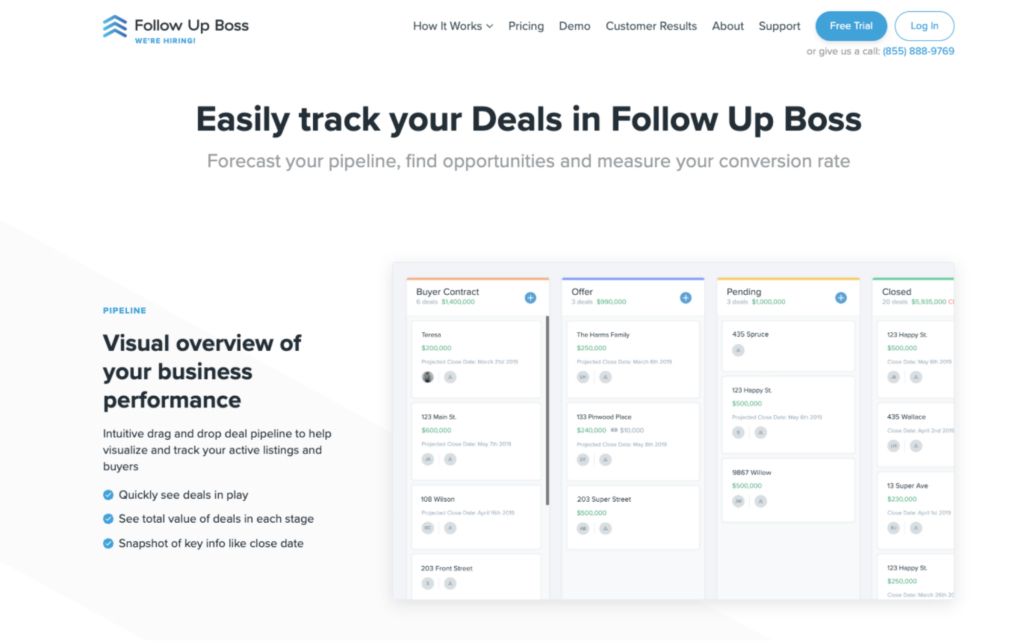 Follow Up Boss is a good real estate CRM option for sales-focused teams. Users can use follow-up, communication, and lead nurturing tools to keep in touch with clients. Follow Up Boss also offers many integration options and built-in communication features like email campaigns, texting, and calling.
7. Top Producer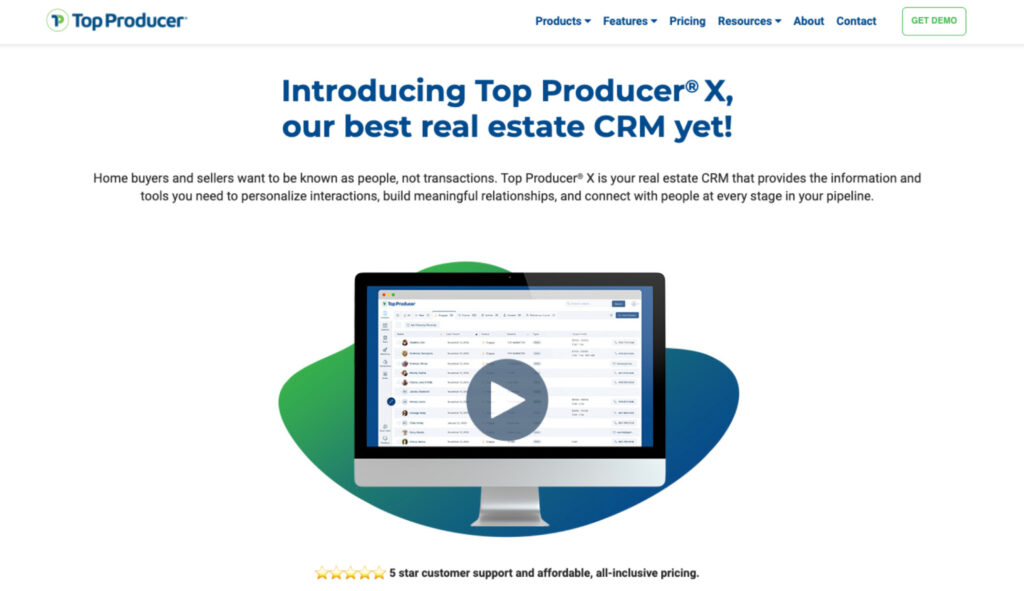 Another real estate-specific CRM, Top Producer lets users gain insight into their contacts and easily track properties clients are interested in. A long list of integrations enables greater functionality.
8. Market Leader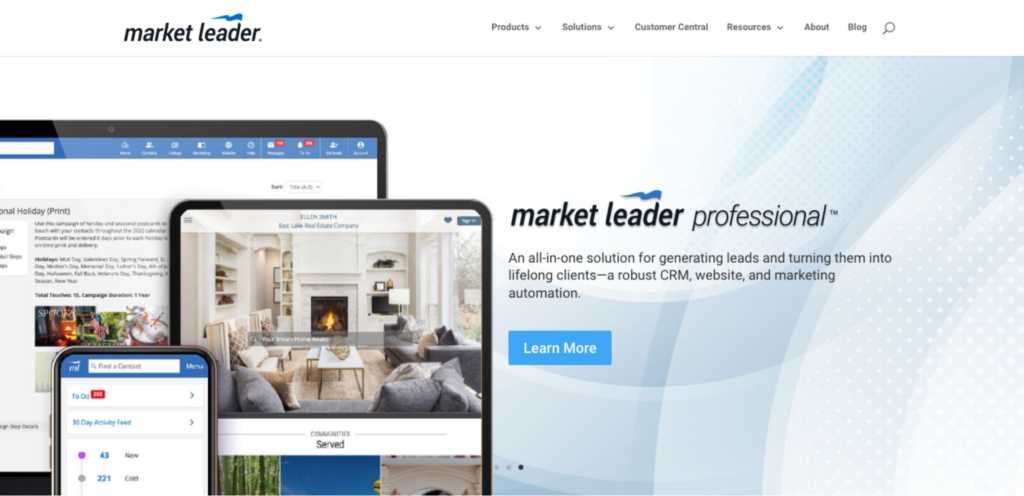 Users of Market Leader can automate responses to clients, view the properties their users have saved, and track lead sources through reporting. Market Leader also integrates with your website to capture new leads. However, your website will be hosted on their domain, which might become difficult if you switch CRMs.
9. Real Geeks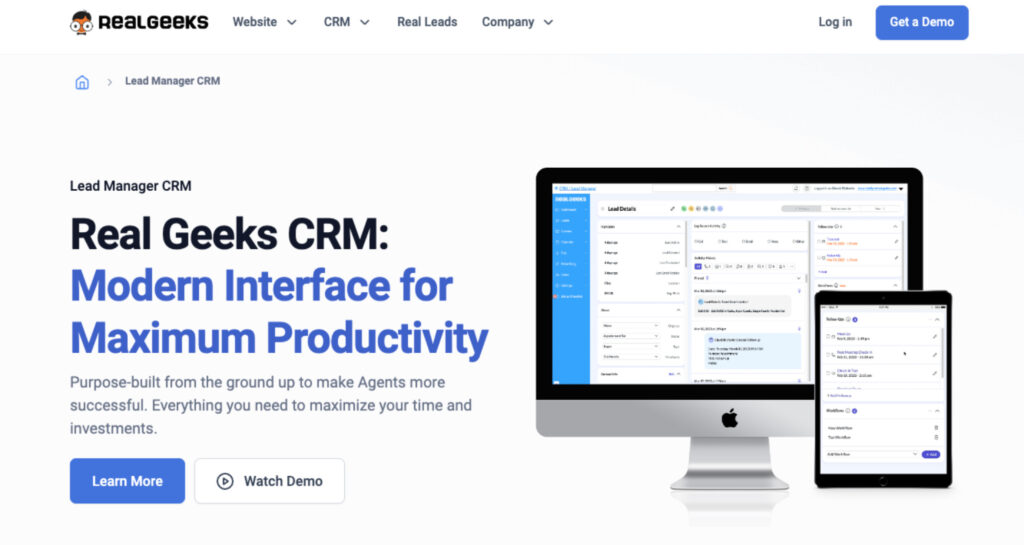 Real Geeks shines in contact and lead management, offering users a range of filters for sifting through potential clients to target the most promising ones. Email sync keeps track of all communications with clients, while software integrations help teams access even more features.
10. Hubspot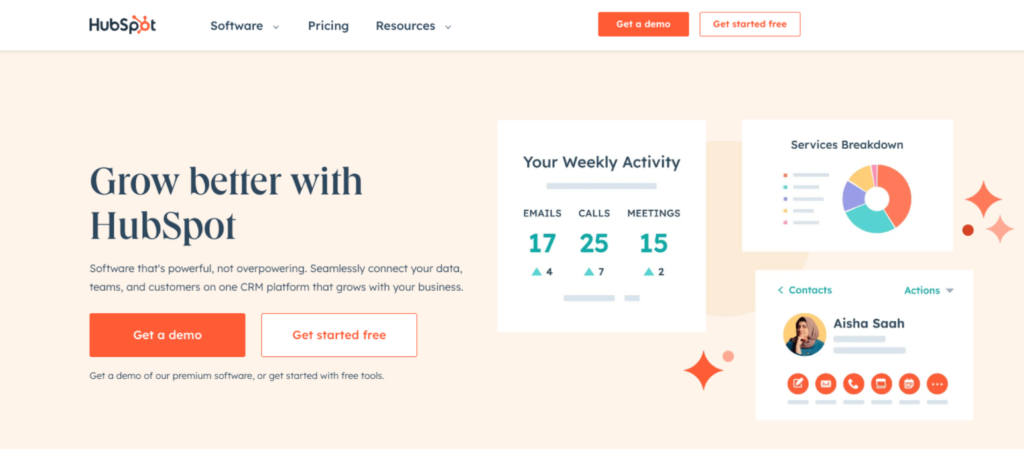 Hubspot isn't a purpose-built real estate CRM, but agents can adjust its features for use in their real estate business. Using Hubspot for real estate lead tracking allows users to manage client relationships and continue nurturing them through email marketing. Hubspot also offers other CRM features like team collaboration, reporting, and pipeline management.
CRM in real estate FAQs
In your research about using CRM in real estate, you may still have some questions. Find the answers below:
How many real estate agents use a CRM?
CRMs have become increasingly popular among real estate agents. According to the NAR's 2022 Technology Survey, CRMs were among the top three tech tools that had given survey respondents the largest number of quality leads in the past 12 months.
How do you make CRMs work for real estate?
If you choose a general CRM rather than an option purpose-built for real estate, you can make the software work for your business by taking advantage of customization and integrations. By adjusting how you organize your contact data in your CRM, a general CRM can be just as effective as a real estate CRM.
Why is CRM important for realtors?
Customer relationship management is critical for realtors who want to stay on top of their leads, nurture their client relationships, and ensure they never miss a step in the lead management process. A CRM helps real estate agents stay more organized, communicate better with colleagues, and provide personalized client service that leads to high satisfaction.
Boost your real estate business with Nutshell
Using a CRM in real estate provides many benefits, from improving team communication to streamlining the sales process. Explore the options and consider your unique business needs to find the best platform.
With the help of Nutshell, you can give your real estate business the support it needs to thrive. Features like sales automation, performance tracking, contact management, and team collaboration help you make the most of every opportunity and meet your clients' needs.
Contact Nutshell today to learn more about how our software can help you meet your goals, or get a free trial to see for yourself!
BACK TO TOP
909910
ADVERTISEMENT