ADVERTISEMENT
Welcome to Email Automation 101! This class — er, blog — will focus on two specific ways to implement email automation using HubSpot: through their Sequences and Workflows tools. If you're new to HubSpot services, or just their email marketing tools, this one's for you!
(If you're looking for more general, non-HubSpot-specific info on email automation, we've got you covered too. Check out this blog on Email Workflow Best Practices, or this one on Inbound Marketing Automation). 
So let's get down to it. What's the difference between HubSpot Sequences vs. Workflows, and how do you know which to use, and when?
What Are HubSpot Sequences and Workflows?
Sequences and workflows are two email automation tools that HubSpot offers. They were each created to streamline everyday processes, saving your team valuable time and money. 
You'll have access to the HubSpot Sequences tool with a Sales Hub Professional or Enterprise subscription, or a Service Hub Professional or Enterprise subscription with a connected personal inbox (G Suite, Office 365, etc.). You'll have access to HubSpot Workflows with a Marketing Hub Professional or Enterprise subscription. 
Here's a cut-and-dry look at the differences between HubSpot Sequences vs. Workflows with this chart:
| | |
| --- | --- |
| HubSpot Sequences | HubSpot Workflows |
| Sales tool | Marketing tool |
| Available to Sales Hub Professional or Enterprise users, or Service Hub Professional or Enterprise with a connected personal inbox | Available with Marketing Hub Professional or Enterprise |
| Customizable & targeted for 1-1 communication | Sent to bulk contact lists |
| Simple, with minimal images and styling | Dynamic and highly stylized |
| Sent directly from a sales rep's inbox | Sent through HubSpot |
| Automatically unenrolls contacts after response | Automatically triggered by actions a lead takes, but doesn't automatically unenroll |
If that's all the information you need, great. If you'd like more explanation, keep reading and we'll dive deeper into the specifics.
Key Differences Between HubSpot Sequences vs. Workflows
The biggest difference between HubSpot Sequences and Workflows is that HubSpot Sequences are a sales tool and HubSpot Workflows are a marketing tool. What does that mean exactly? We'll break each one down below.
HubSpot Sequences
HubSpot Sequences are designed to help your sales team reduce the time they put into repetitive communications. With sequences, you can set up email templates right into your inbox and send out personalized, 1-1 content that nurtures those hot or warm sales lead you've already connected with.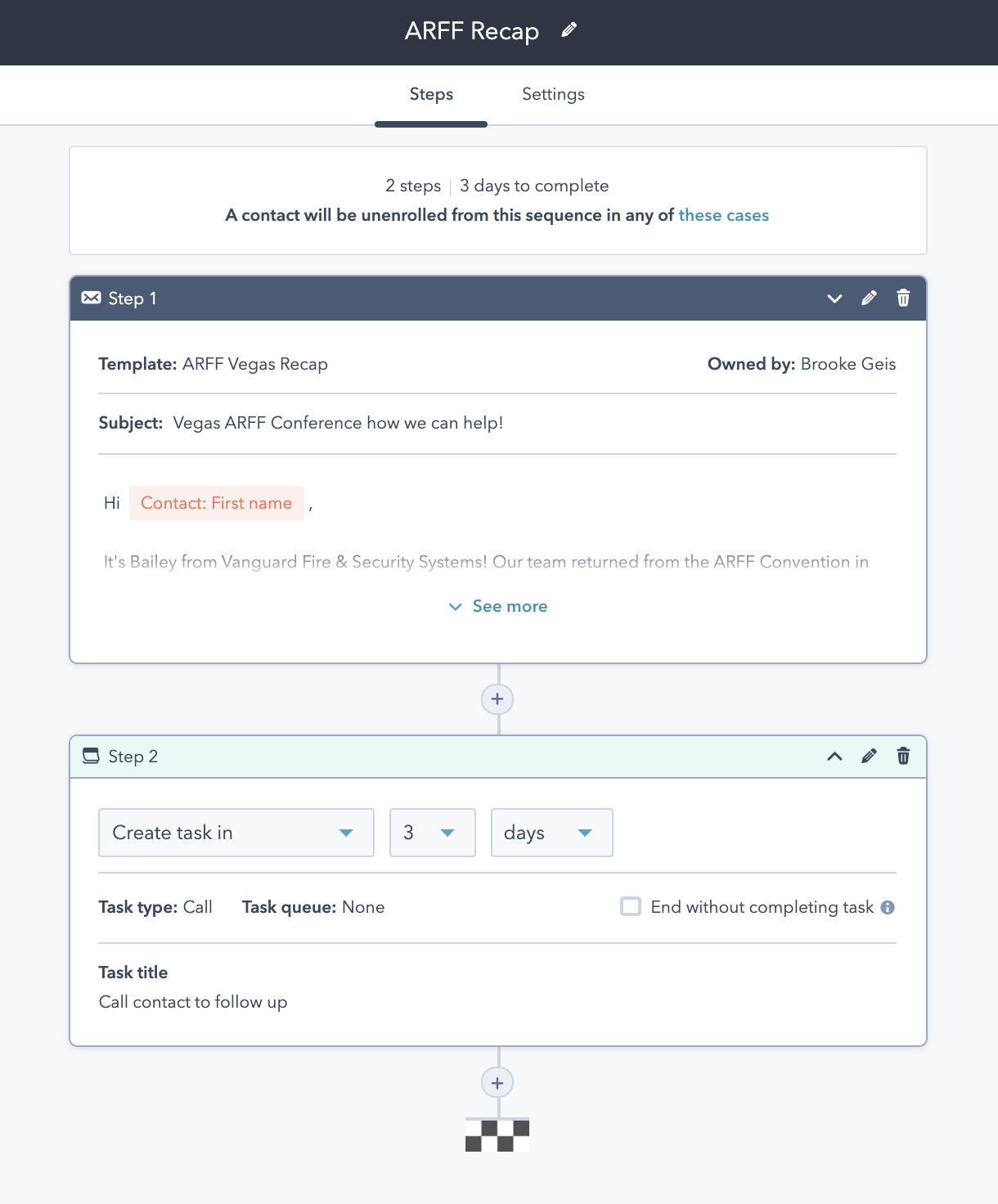 HubSpot Sequences are:
Customizable & Targeted

. A sales rep can change the template in their email tool to tailor the message specifically to the hot lead they're working with. 
Simple

. A sequence email looks like any other email you'd get directly from a real person. They don't feature a lot of images or styling. 
Direct.

Sent directly from the sales rep's inbox to the lead. 
Automatically unenrolled.

The minute a lead responds to the sales rep, they're removed from the sequence. 
HubSpot Sequences are not:
Bulk Communication.

Sequences are manually enrolled and can be sent to a max of 150 people per day. They're meant to be 1-1 communication, rather than a sales campaign.
Reportable.

The only information you'll get from a Sequence is whether a contact opened or replied. You won't get metrics, such as click-through rates. 
Automatically Triggered.

Only people can trigger sequences.
Example of When You Might Use a HubSpot Sequence
With a clearer picture of what sequences are (and aren't), here's an example of when one might be useful.
Let's say your sales team knows that your pricing sheet is a great piece of content that usually speeds up the decision-making process. If they have a hot lead, they can use their Pricing Sheet Sequence to automate that communication a bit. That might look something like this: 
Your sales rep sends out the first email with that pricing sheet and a meeting link.

If that contact responds or books time to connect with the sales rep, that contact is automatically unenrolled from the sequence. 

If they don't respond, another email might go out in 24 hours. This email might ask if the lead had any questions, and prompt them to schedule time with the rep to follow up. 

If they follow up, they're out of the sequence. 

If they don't respond, they move on to the third (and usually final) email. 
How HubSpot Sequences Help Your Sales Team
Sequences make frequent, regular communication a little easier. Your sales reps start with an email template that they can send straight out to the contact from their inbox or customize as necessary for their unique contact. 
ADVERTISEMENT
Also, following up is automatic, ensuring you keep that lead hot as they get ready to make a purchase decision.
HubSpot Workflows
The HubSpot Workflow tool is designed to nurture warm, lukewarm, and even cold leads. They're often sent to bulk lists and are highly stylized. Most workflows are designed to give leads more of the information they want or need to help move them toward a purchasing decision. 
Though email automation is the primary use for workflows, you can also use them to assign leads who take specific action to a corresponding contact list, trigger tasks for your team to reach out to those leads, and more.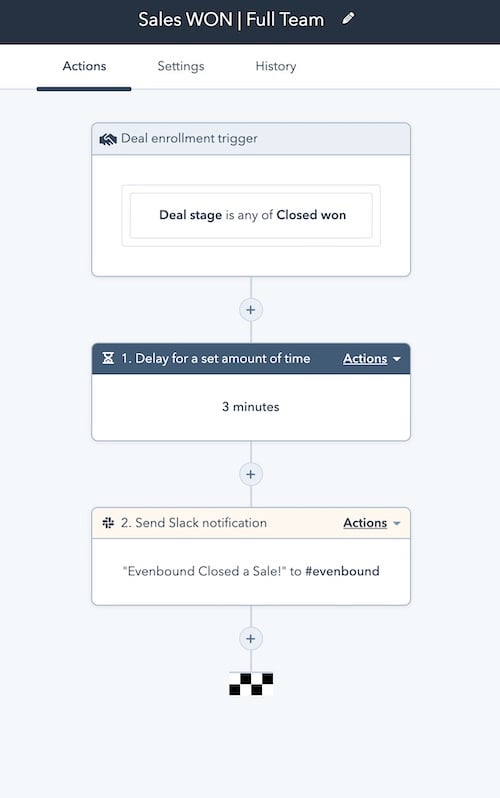 HubSpot Workflows are:
Automatically Triggered.

Workflows are automatically triggered by specific actions you set, whether that's a lead downloading a guide or interacting with a chatbot.
Sent Through HubSpot. Rather than sending a 1-1 email, workflow emails are sent through HubSpot. You can change the "from" address to whatever you want, such as a team member's email address or your general marketing or info email.
Delayable. You can set up workflows with flexible time frames. Send an email one day, and then delay the follow-up for three days or even a week.
Dynamic. Add in as many pictures, videos, and visual components as you like. These emails are stylized in the HubSpot email tool, where you can use the drag-and-drop editor to create what you like.
Compatible.

You can have one workflow trigger another workflow if you like. The customization options are endless and robust. 
Reporting.

Workflows offer many metrics, from what links are clicked to the open rate, and more. As a marketing tool, you have access to marketing metrics associated with each workflow.
HubSpot Workflows are not: 
Automatically Unenrolled.

A contact will experience the full workflow unless you set a goal criteria that ends the workflow early for contacts who take a specific action. 
1-1 Communication.

These are bulk emails sent to specific,

segmented contact lists.

While you can implement personalization tokens, all replies will go to the same "from" email address.
Tracked by Reply.

Anyone can send a workflow through HubSpot. Since these emails aren't tied to a specific inbox, HubSpot cannot track replies. You will still see replies in the inbox of the "from" email address. 
Example of When You Might Use a HubSpot Workflow
Let's say your marketing team has just developed an awesome content offer. You know that when someone downloads this content offer, they're a qualified lead. A workflow can continue nurturing that lead for your marketing team until they're ready to talk to a sales rep. 
Here's how you might use a HubSpot Workflow after a lead takes the action of downloading a content offer. 
Immediately after the person downloads your content offer, you send them a "Thank You" email, with another link to download the offer, just in case they navigated away from your landing page before they saved the download. 
Three days later, your workflow sends them a follow-up email. It asks if they have any questions and provides another piece of content that will be relevant to them, based on the content they've already downloaded. 
If that person downloads

the second piece of content, you might send them a third email a few days later with an option to book time with a sales rep. 

If that person doesn't download

the second piece of content, you could send them a follow-up email encouraging them to reach out with any questions. Your workflow could then assign that lead to your "Newsletter" contact list, where they'll get regular, monthly communication until they take another action that indicates they're warming up. 
This is a short example of a workflow. Yours can be much more in-depth than this, offering a variety of options based on every action that contact does or doesn't take.
How HubSpot Workflows Help Sales AND Marketing
HubSpot Workflows eliminate a lot of wasted time, both for sales and marketing. Workflows help nurture warm or cool leads without much work on the part of your marketing team. If a lead does take an action that indicates interest, your workflows can auto-notify the appropriate person on your team.
Workflows function as another marketing expert on your team, talking to your lukewarm leads for your marketing pros, and bringing them in only when it's a good use of their time. 
This helps your marketing team spend more of their time on the leads they know are warming up. This in turn ensures that your sales team only gets leads that are hot and ready to make a purchasing decision. 
HubSpot Sequences vs. Workflows: Which To Use, When?
Now that you've got a better idea of what Sequences and Workflows do (and what they don't do), you should have a clear picture of when to use each of them to your advantage.
Here's our general rule: 
If it's not 1-1 communication and you want to send a message out to a list of contacts, a workflow is your best bet.
If you're working to close a hot lead or send out personalized communication to a contact your sales team has already talked to, then you'll want to use a sequence.
When used properly, both HubSpot Sequences and Workflows can help your sales and marketing teams convert more leads, faster. They help you deliver the right message, to the right person, at exactly the right time. 
Want Help With Email Automation in HubSpot? That's What We're Here For. 
Now that you know more about how both email automation tools work, it's time to get your hands dirty! Set up your first workflow, or get building your sales email templates. Once you start using them, you'll be able to experience the unique benefits of each firsthand. 
Then, let us know how your email automation with HubSpot goes! If you run into any questions, or if you just can't seem to get your workflows working the way you'd like, don't hesitate to reach out. We're a HubSpot Diamond Partner Agency, and we'd be happy to help with your email automation and beyond.
ADVERTISEMENT