ADVERTISEMENT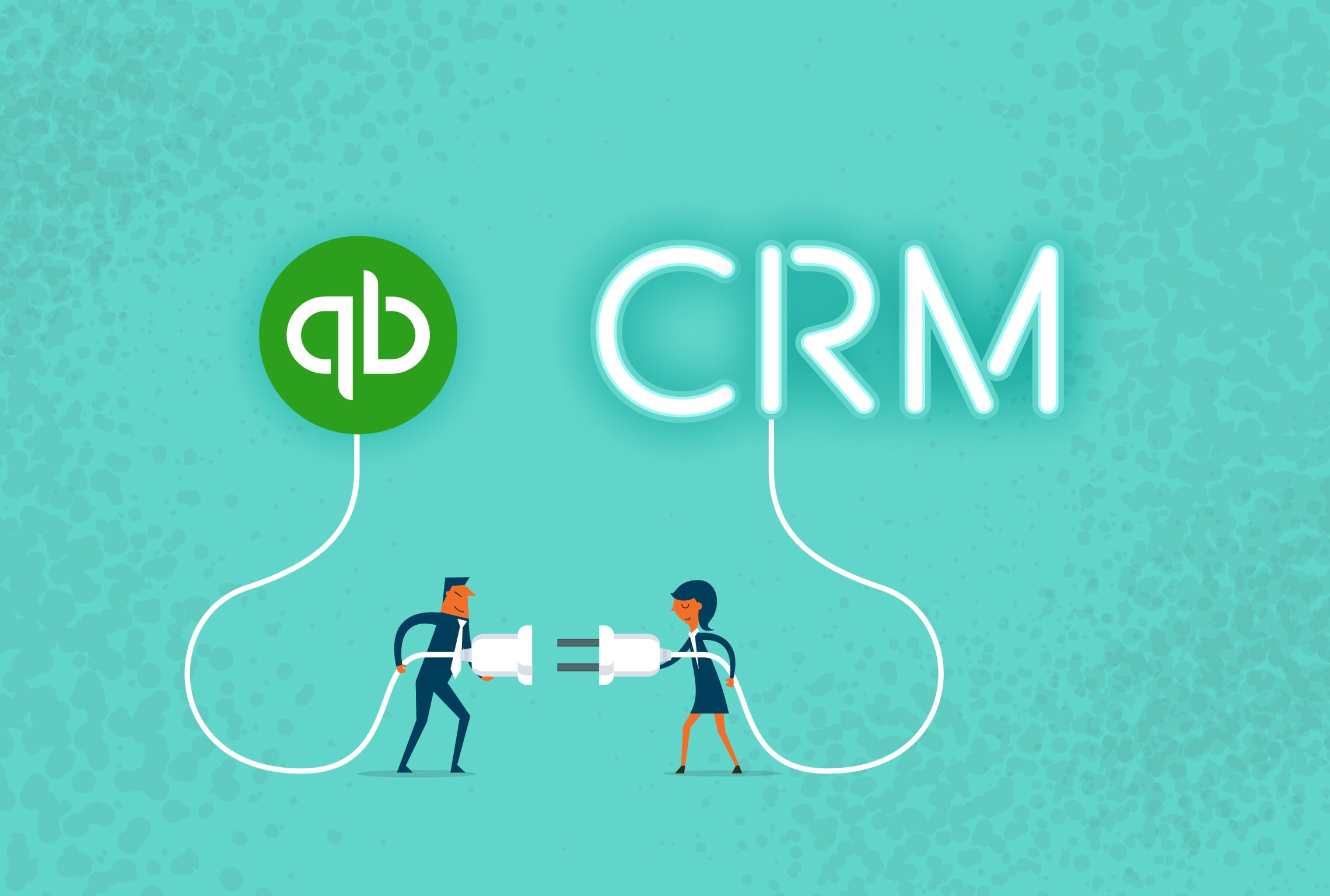 One of the main benefits of CRM software is the ability to get every aspect of your business working in sync.
By uniting your communication and marketing tools with your sales platform, your team can conduct and track all their sales conversations from a single tool. And if you also rely on accounting software to manage incoming and outgoing payments, there are a lot of hidden benefits to integrating it with your CRM.
QuickBooks is an accounting software platform geared towards small and medium-sized businesses, offering millions of companies a simple way to manage their daily sales and expenses, invoice their customers, accept payments, pay their bills, and generate reports for planning and tax filing.
Nearly every major CRM on the market offers a QuickBooks integration, but these integrations are far from equal. Some CRMs offer a one-click setup, while others require a longer, more complicated installation. Finding a platform that integrates well with QuickBooks can be challenging, so it's important to choose wisely.
Let's take a look at why you need to get your CRM talking to your accounting software and some of the best CRMs that integrate with QuickBooks and QuickBooks Online.
Why use a CRM QuickBooks integration
Small businesses often use QuickBooks as their first CRM since it stores customer contacts and buying histories. And when your business is just getting started, being able to access customer contact information from your accounting software might be enough. 
But just like spreadsheets provide limited functions, QuickBooks doesn't actually do anything to help you make sales—it only helps you manage billing and accounting after the fact. Connecting your QuickBooks account with software that helps you manage your pipeline is crucial for optimizing your tools.
Consider the benefits of using a CRM QuickBooks integration:
Enhancing lead and customer management: Think of integrating QuickBooks with your CRM as a way for every member of your team to have a birds-eye view of every client. Understanding what stage of the buying process a lead is in, whether you need to nurture them more, and even having a record of past communications helps your team make the most of every relationship.
Streamlining financial processes: Automating your invoicing, billing, and follow-up on unpaid invoices saves you valuable time. But the real magic of uniting your QuickBooks account and CRM platform is that it provides transparency into your entire sales funnel, which boosts your chances of closing more leads and growing your business.
Empowering your sales team: If your QuickBooks customer list is full of underutilized opportunities, integrating it with your CRM gives your sales team access to all those leads so they can work toward making more sales. And since your accounting software needs to be a reliable source of truth for billing and payment information, keeping your CRM and accounting software synced will keep your customer data clean and organized for the whole team.
With those benefits in mind, here are nine leading CRMs that offer useful connections with QuickBooks:
The best CRMs for QuickBooks integration:
| | | |
| --- | --- | --- |
| CRM with Quickbooks | Features | Best For: |
| Nutshell | Native QuickBooks Online integration to send people, companies, and leads to QuickBooks, and Highly customizable CRM | Sales teams looking for a full-featured CRM |
| Method | Integrates with every QuickBooks product, Invoice directly from Method, and Syncs contacts across both platforms | Companies whose #1 priority in a CRM is how well it plays with QuickBooks, but don't need full-featured CRM. |
| Insightly | Customized QuickBooks Online tab to view payment history and status, and Gives complete history of any customer you have on your books | Businesses that need advanced project management features in their CRM platform. |
| Zoho | Create timesheets, integration reports, and bills with just a few clicks. Syncs invoices and expenses back to QuickBooks automatically | Companies who need a customized, advanced QuickBooks/CRM relationship. |
| Microsoft Dynamics 365 | Automated exchange of data related to contacts and accounts. Synchronization frequency variation. Embedded AI for customer management workflows | Companies that need a customizable platform with all-embracing CRM functionality. |
| Salesforce | Integration through Zapier. Salesforce for QuickBooks program scrapped after three years | Companies looking for a QuickBooks integration through Salesforce. |
| Copper | Native QuickBooks integration, view payments on records | Companies with sales teams that work primarily out of G Suite |
| Freshsales | Connect invoices to contacts, built-in phone feature | Sales teams who close a lot of deals over the phone |
| Greenrope | Direct integration from QuickBooks, import customers as new contacts | Businesses looking for a one-stop, no-frills CRM |
1. Nutshell
If you're looking for a CRM integration with QuickBooks Online, look no further than Nutshell, a sneaky powerful CRM and sales automation platform that's designed to help sales teams do things quickly. The QuickBooks Online integration is a great mix of sophisticated and simple that lets users migrate customer information and create invoices from within the CRM in a few simple steps.
If you have a customer list stored in QuickBooks Online, you can import it into Nutshell in just a few clicks with Nutshell's direct importer. All of your QuickBooks Online customers will be rolled over into your CRM in seconds, so you can start tracking communication histories, nurturing clients towards repeat business, and incorporating your QuickBooks contacts and data into your sales and revenue reporting.
Nutshell's native QuickBooks Online integration allows customers to send people, companies, and leads to QuickBooks from their respective pages, as well as create invoices in QuickBooks directly from the lead page.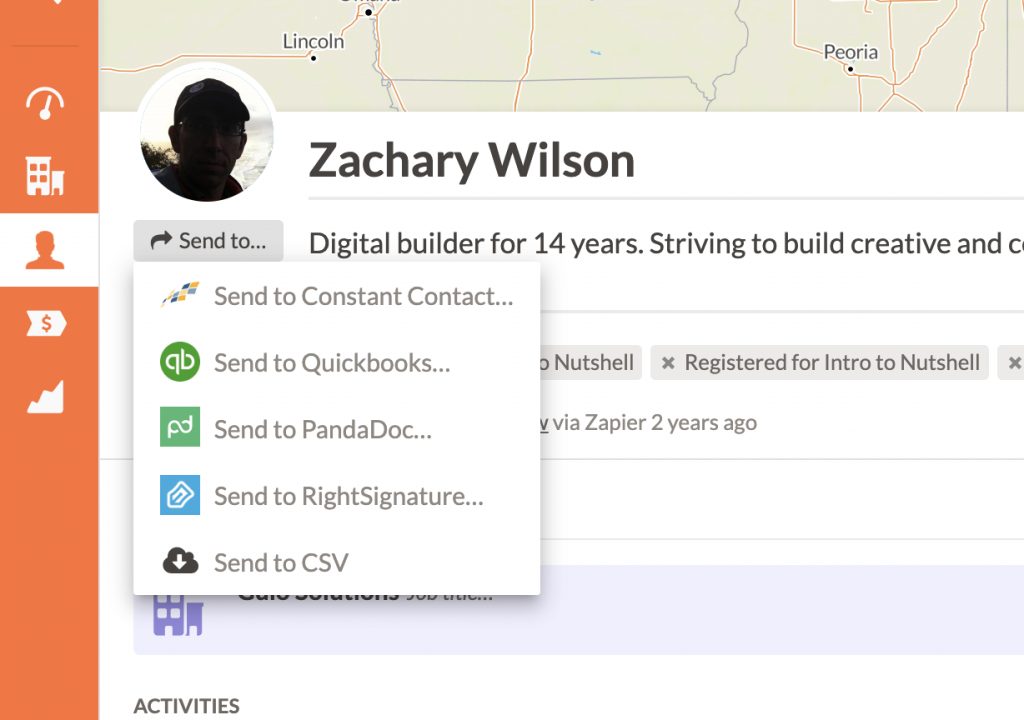 Nutshell also offers a Zapier integration, which provides a simple way to connect multiple software platforms. Nutshell's Zapier integration allows you to trigger invoices, bills, or new records through QuickBooks Online once you've enabled the connection and keeps customer records synced in both places.
NO CREDIT CARD REQUIRED
Want to kick the tires a bit?
No problem. To see if Nutshell is the right choice for your sales team, start a 14-day free trial today!
2. Method
Method:CRM is one of the CRMs on our list that plays well with every QuickBooks product.
Whether or not you use QuickBooks Online, Pro, Premier, or Enterprise, your data will integrate seamlessly with Method. Because of its broad integration capabilities, it's a good choice if you're looking for a CRM where QuickBooks is absolutely integral to your sales process.
From creating estimates to invoicing, Method makes it simple to perform common QuickBooks tasks from within their system. Method also syncs contacts across both platforms to save you loads of time on data entry.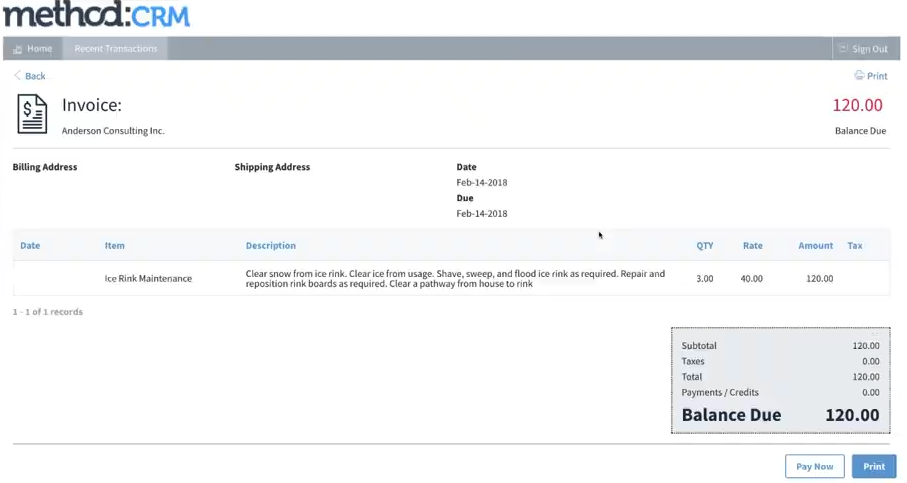 3. Insightly
Insightly prides itself on its QuickBooks integration, and they've done it well. Insightly's integration is simple to use, easy to install, and offers you a lot right out of the box.
You can view any of your customers' payment history and status in a customized "QuickBooks Online" tab.
Like other CRMs, Insightly will give you a complete history of any customer you have on your books, allowing your sales team to better understand the customer they're dealing with.
Because it plays so nicely with QuickBooks, you might find it surprising that you can't create invoices or estimates directly from Insightly. Despite all the bells and whistles, you have to leave your CRM to bill a customer. You also can't accept direct payments through the CRM either, so if these features are deal-breakers for you, you might have to look for another CRM.
4. Zoho
The Zoho CRM QuickBooks integration leans heavily on customization. It'll take you a while to set it up, though.
Although Zoho allows you to add QuickBooks easily enough from the integration dashboard, that's about as simple as it gets.Once you've allowed access, Zoho requires you to manually configure your import and export process for QuickBooks: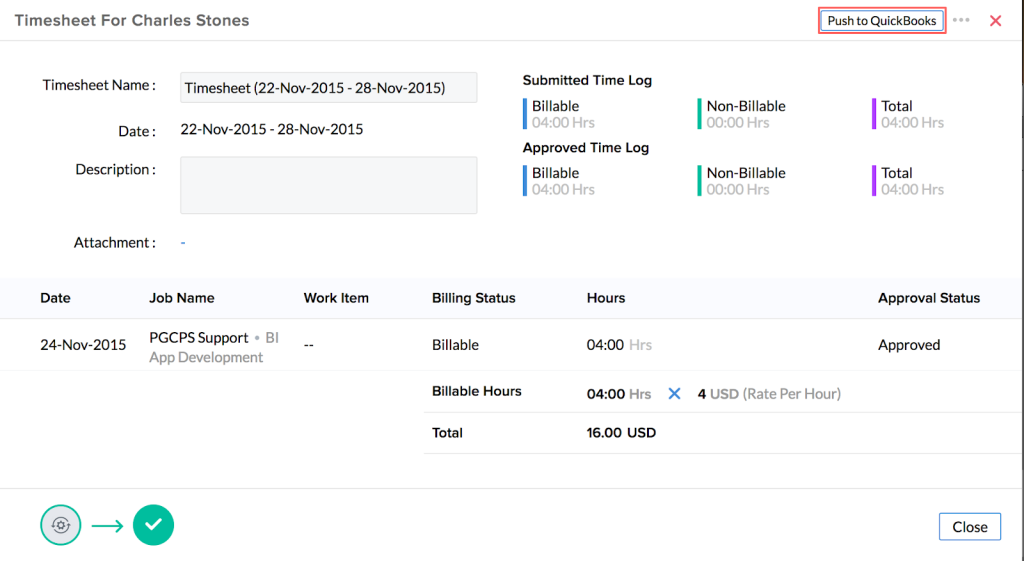 The upside to all this complexity? Once you set up QuickBooks in Zoho, the level of control you get back is great.
After the initial manual setup, you'll then have the option to create timesheets, integration reports, and bills with just a few clicks and push them straight to QuickBooks, as well as sync your invoices and expenses back to QuickBooks automatically.
ADVERTISEMENT
5. Microsoft Dynamics 365
QuickBooks also integrates with Microsoft Dynamics 365 via an easy-to-install app. The integration enables the automated exchange of data related to your contacts and accounts and prevents erroneous or double data entries. To speed up the transfer of large data volumes, you can vary the synchronization frequency for different data types. 
What's especially convenient: The integration app is updated automatically whenever new features are released.
Microsoft Dynamics 365 is a top-rated solution for sales management and heads a Gartner's list of the best Sales Force Automation Platforms for 11 years. Dynamics brings together customer data management and effective automation to cover complex customer management workflows—from lead generation to billing. Embedded AI helps elicit the best opportunities for bigger deals and larger customer lifetime value.
‍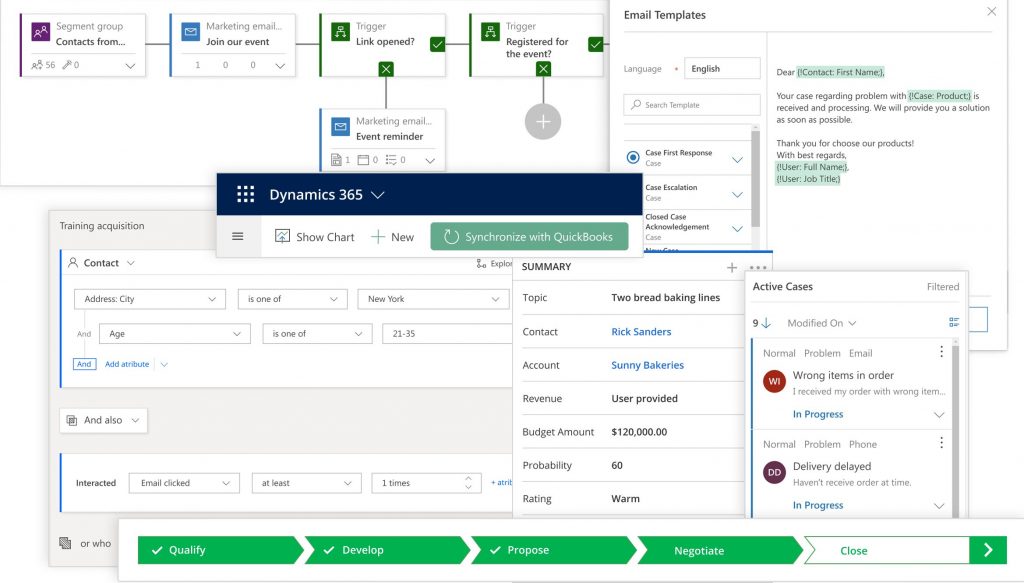 6. Salesforce
Salesforce once had a special integration with QuickBooks called Salesforce for QuickBooks.
The program allowed the sales CRM to plug straight into QuickBooks. But there were problems, and the software was scrapped after three years. The integration was really only set up for businesses at the lower level of Salesforce, and it turns out the program wasn't compatible with a lot of Salesforce's own extensions.
Thankfully, Salesforce also plays nice with Zapier. So if you're looking for a QuickBooks integration through Salesforce, you can still have it.
Once connected, you'll be able to sync your QuickBooks customers to Salesforce accounts and view all of their details from the CRM interface.
You can also do loads of other stuff with the integration, like create transactions, invoices, and manage accounts.
A complete sales history will also be available to your team right from Salesforce, along with an automatic data sync between both platforms.

7. Copper
Users can also connect QuickBooks to Copper through their integration. You'll need a Professional or Business Copper account to connect the two.
Once you integrate, you'll be able to log payments as activities. You'll also be able to view past invoices and payment amounts on your records, straight from the Copper dashboard.
Copper's integration with QuickBooks is fairly limited. There are only a couple of functions available to make Copper and QuickBooks talk. But if you only need a lightweight QuickBooks integration and you are looking at Copper because of its integration with G Suite, don't be entirely put off.
Even its simple integration will allow your sales team to view key data for each customer on their email dashboard: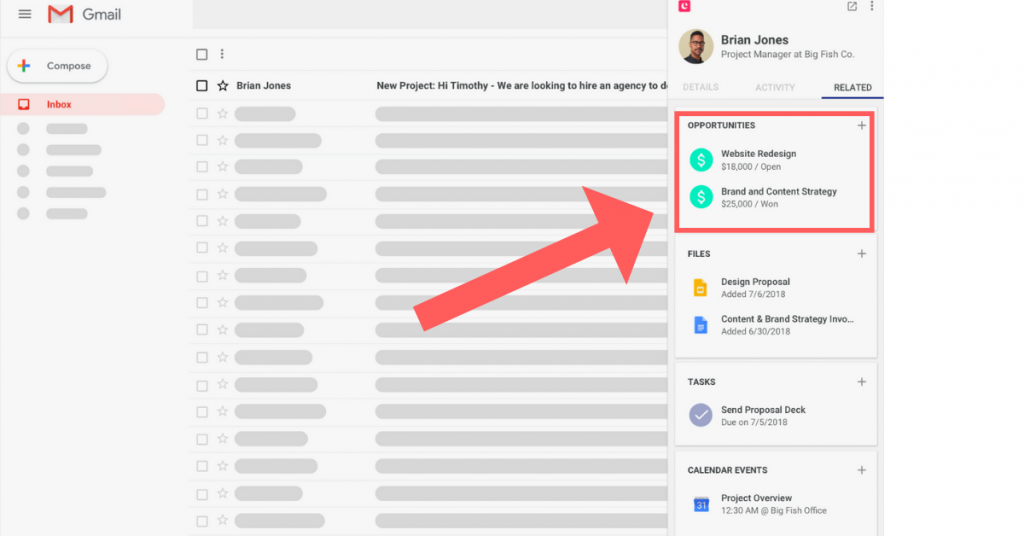 8. Freshsales
Freshsales is another CRM that puts its QuickBooks integration at the forefront of its sales pitch. And rightly so.
Freshsales lets you pin or connect invoices to contacts from the CRM, which can come in handy if you are having trouble chasing payments.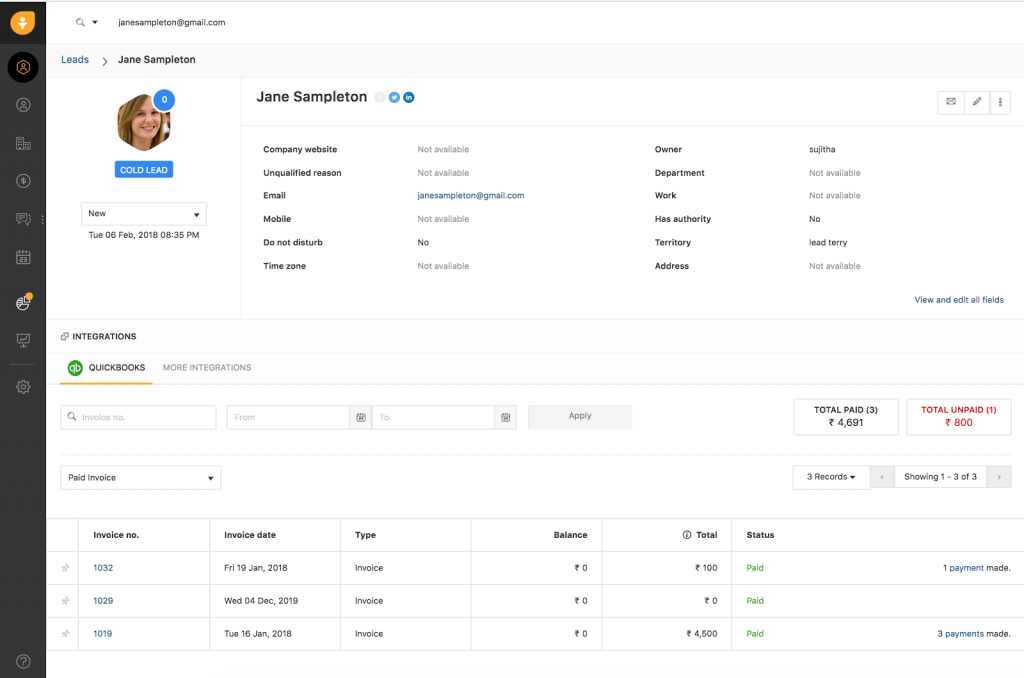 The integration allows invoices and customer histories to be kept for each customer on the Freshsales interface.
But it's the built-in phone feature that makes this integration unique. If you've got problems with invoices or payments, your finance team will be able to follow up with them easier—all from Freshsales.
The feature will also be a massive bonus if your sales team closes more deals over the phone. Because of its functionality, Freshsales gives your sales reps the tools to control the entire deal, from prospecting to the final invoice.
But, there is some bad news.
Although it offers a lot, you still can't invoice a customer directly from Freshsales or make payments.
9. GreenRope
Even the smaller CRMs on our list are getting in on the QuickBooks action. GreenRope offers direct integration from QuickBooks into their software.
Some of the features you'll get from the integration include importing customers as new contacts and transferring your invoices across platforms.
You can also sync your customer data over from QuickBooks and then set the system to automatically update any data from that point.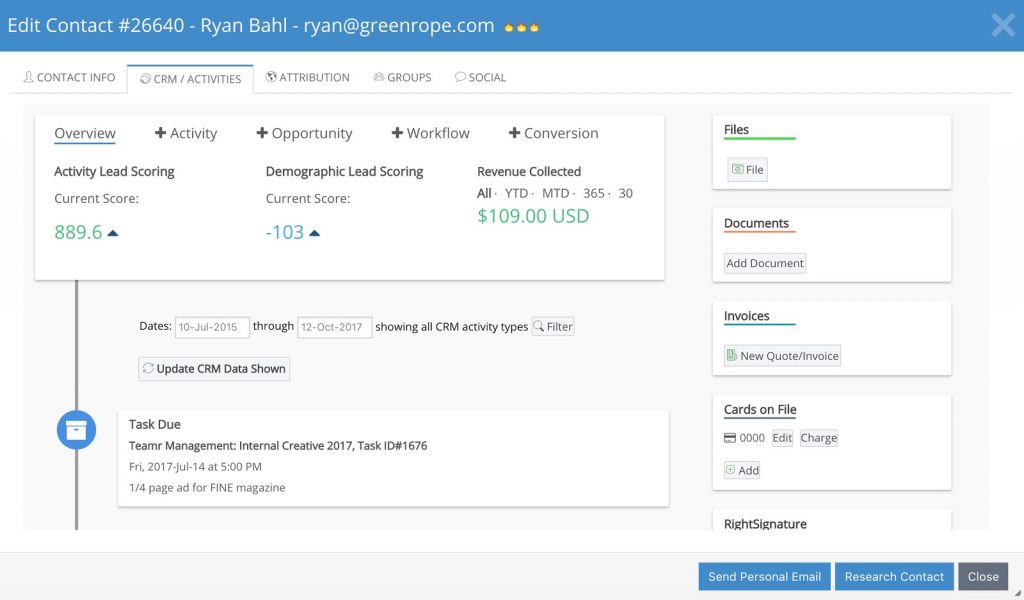 GreenRope currently uses QuickBooks' own Intuit Web Connector, which can be easily installed onto your desktop. You need this to be running for syncing invoices and contacts within the CRM, though.
Their reporting functions are relatively simple to use, if a little clunky: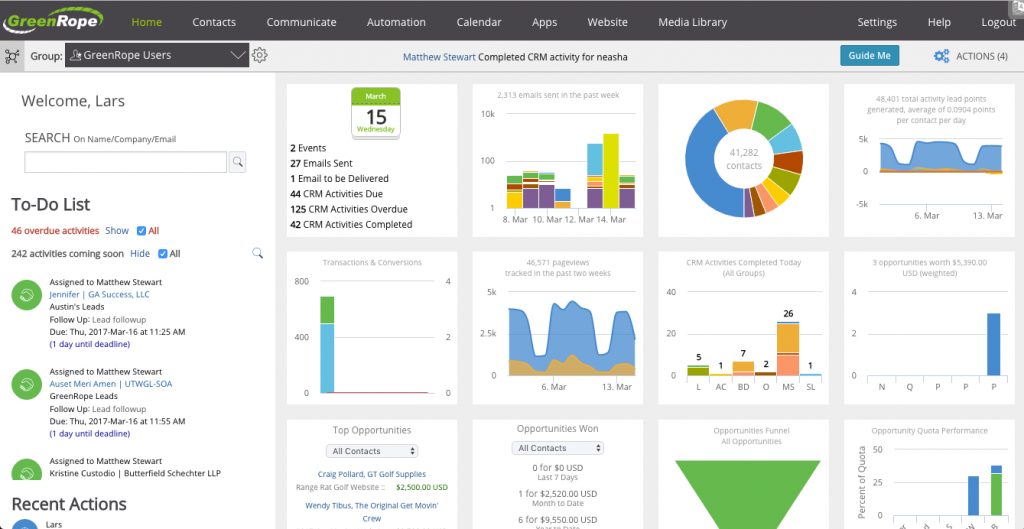 Calculate the Costs of CRM that Integrates with Quickbooks

How many marketing contacts does your company have?
Frequently asked questions about CRM QuickBooks integration 
You have a lot to consider as your team searches for the best CRM QuickBooks integration. These FAQs might provide answers to your lingering questions:
Can you do CRM with QuickBooks? 
You can perform some aspects of customer relationship management with QuickBooks, such as viewing contact information and keeping track of purchase history. But QuickBooks alone won't give you the features that a CRM provides, like sales automation, email marketing, reporting, team collaboration, and more. 
What CRMs does QuickBooks integrate with?
QuickBooks integrates with many different CRMs, including some of the largest CRMs out there. You can find a range of CRM QuickBooks integrations that work natively or through Zapier.
Does QuickBooks have a CRM feature?
Although it's built for accounting, QuickBooks does offer some functions that can help your team manage relationships with customers. Users can generate reports and benefit from some project management tools. 
But QuickBooks wasn't designed to be a full-featured CRM that helps your sales and marketing teams close more deals. To get the most out of your QuickBooks account and CRM, you need to integrate the two.
Look for the best CRM, not the best integration
Having a QuickBooks integration in your CRM is important. Very important.
That's why most CRMs on the market have stepped up to the plate and offered some way to integrate QuickBooks into their system.
But while it's important to integrate QuickBooks with your CRM, it doesn't have to be your main priority when choosing a CRM. At the end of the day, you want to pick the CRM that fits your business the best, not the CRM that fits QuickBooks the best.
Remember: Choosing the right CRM for your business can make a massive difference to the performance of your sales team—not to mention your customer service team, your marketing team, and how all these teams work together. So look at the bigger picture and choose a CRM that will help your entire business, not just a part of it.
With a range of robust features and integrations, including a high-powered native QuickBooks integration and a Zapier integration, Nutshell helps your entire team get more done. See Nutshell in action by starting a free trial or get in touch with our team to learn more about how you can use Nutshell to grow your business!
LIVE DEMO
Ready to see Nutshell in action?
Attend a live guided tour! Every Tuesday at 3pm ET / noon PT.
BACK TO TOP
ADVERTISEMENT